English MILF – Kinky Cop Video
British Booty Police. Check out the next free english milf video and enjoy Daniella dressed as a slutty cop. This is one police officer you would not mind getting ASS-aulted by. Wifey Daniella is going to a fancy costume party dressed as a hot British cop in tight butt shorts and blue fishnet stockings. Click here and watch this video to see your favorite mature lady in action once more. This fine day the curvy and busty beauty wanted to do a little bit of role play just for you guys and we think she did one marvelous job at playing the bad cop. And of course you will see just what we're talking about shortly.
We mean to say bad cop, because this cutie, as much as she may try to represent the law, just can't stop herself from being naughty. Watch as englishmilf Daniella takes her round, and see her present you with her rear end for you to admire and enjoy that big butt of hers. Well she quickly gets bored with it and takes back to the house to get to have some private fun too. Watch her taking out a big purple dildo, and see her starting to suck on it, demonstrating her simply amazing and hot blow job skills as she licks and slurps on that sex toy with her juicy lips and expert tongue. Bye bye everyone!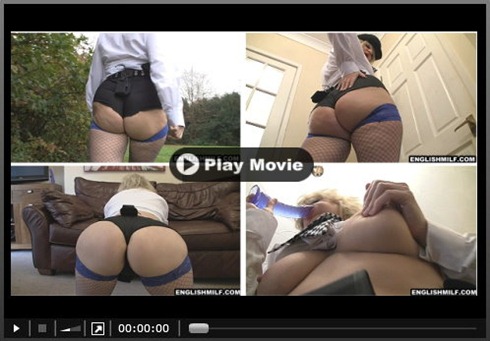 See this kinky cop spreading butt cheeks and dildoing herself!